Class Of 1959
Southeast

High School

Kansas City, Missouri
In Memory
Floyd Hall VIEW PROFILE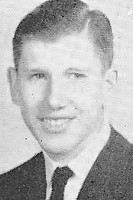 Floyd was my closest friend in high school and also in college. Somehow we went our separate ways after college and only met perhaps three times after that. I am attaching some photos from a visit he, Barbara, & Connie made to our then home in Livermore in 1971. Also, some photos from our 45th high school reunion in 2004.
Somehow, you think you have all the time in the world to renew old friendships and then learn how quickly the opportunity slips away while you are busy with your life. I will miss his sense of humor and off beat view of the world.
Click here to see Floyd's last Profile entry.